Childhood
Edit
Before birth
Edit
Announcement
Edit
On 3 December 2012, Clarence House announced that the Duke and Duchess of Cambridge were expecting their first child.
At less than twelve weeks, the announcement was made earlier in the pregnancy than is traditional because of the Duchess's admission to hospital with hyperemesis gravidarum.
During this time, a couple of Australian radio jockeys attempted to ring up the Hospital, where Catherine was spending the night. They tried to put on fake British accents and mimicked the Queen and Prince Charles. The nurse who answered their call later committed suicide.
Before the birth, there was speculation the event would boost the British national economy and provide a focus for national pride.
Welsh composer Paul Mealor, who composed "Ubi Caritas et Amor" for the wedding of the Duke and Duchess, composed a lullaby entitled "Sleep On", with lyrics by Irish composer Brendan Graham. A recording was made of it by New Zealand soprano Hayley Westenra as a gift for the baby. Commemorative coins were issued by the Royal Mint, Royal Canadian Mint, and Royal Australian Mint; the first time a royal birth had been marked that way.
The birth
Edit
The Duchess was admitted to St Mary's Hospital, London, in the early stages of labour on 22 July 2013. She gave birth to a boy weighing 8 pounds 6 ounces (3.80 kg) at 16:24 BST (15:24 UTC) later the same day.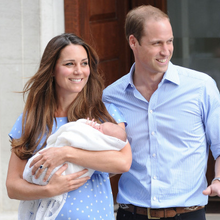 The birth took place in the Lindo Wing of St Mary's Hospital, Paddington—the same hospital in which Prince William and his brother, Prince Harry, were born to Diana, Princess of Wales, in 1982 and 1984, respectively. Queen Elizabeth II's former gynaecologist, Marcus Setchell, delivered the baby assisted by Guy Thorpe-Beeston, Sunit Godambe and Physician to the Queen John Cunningham. The midwifery team accompanying the gynaecologists was led by Imperial College Healthcare NHS Trust's director of midwifery Professor Jackie Dunkley-Bent. William was by his wife's side when she gave birth.
The customary formal bulletin announcing the royal birth was displayed on an easel outside Buckingham Palace, although in a break with tradition the news was first conveyed in a press release from palace officials. Gun salutes signalled the birth in the capitals of Bermuda, the UK, New Zealand, and Canada; the bells of Westminster Abbey and many other churches were rung; and iconic landmarks in the Commonwealth realms were illuminated in various colours, mostly blue to signify the birth of a boy.
The Duchess and her baby, accompanied by the Duke, left hospital on 23 July, and the baby's name was announced as George Alexander Louis the following day. William took the full two weeks' paternity leave from his job (as a RAF search and rescue pilot) allowed by the Ministry of Defence.
Prince George was baptised by the Archbishop of Canterbury in the Chapel Royal at St James's Palace on 23 October 2013, with Oliver Baker, Emilia Jardine-Paterson, Hugh Grosvenor, 7th Duke of Westminster, Jamie Lowther-Pinkerton, The Hon. Julia Samuel, William van Cutsem and Zara Tindall serving as godparents.
The Prince will not wear the historic royal christening gown—as worn by 60 royal babies, including Prince William and Prince Charles for the last 168 years—but will instead wear a replica, E! News reports. The one-of-a-kind Honiton lace and white satin gown was created in 1841 by Janet Sutherland.
The ceremony used a font that was made for Queen Victoria's first child and water from the River Jordan. The Royal Mint issued a set of commemorative coins to celebrate the christening, the first coins to mark a royal christening in Britain.
Royal tour
Edit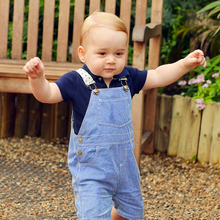 George, with his parents, embarked on his first royal tour in April 2014, during which the Cambridges spent three weeks in New Zealand and Australia. His first public engagement of the tour was on 9 April at a playdate at Government House, Wellington, organised by the New Zealand parenting organisation, Plunket. His parents also attended. On 20 April, Easter Sunday, he met a bilby named after him at Taronga Zoo in Sydney. The BBC said at the end of the tour "there's no doubt Prince George stole the limelight".
First birthday
Edit
George's first birthday party was themed around children's author Beatrix Potter, who knew and was related to members of the Lupton family, George's maternal ancestors.
Engagements
Edit
On 2 May 2015, George visited the hospital of his birth after the birth of his sister Charlotte, his first public appearance in the United Kingdom.
He made his first public appearance on the balcony of Buckingham Palace following the Trooping the Colour parade on 13 June that year, to watch a flypast by the Red Arrows on the Queen's Official Birthday.
Early childhood
Edit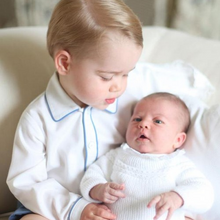 Education
Edit
In January 2016, George started his education at the Westacre Montessori School Nursery, near his family home at Anmer Hall in Norfolk.
In March 2017, it was announced that George would begin primary school in September at the private Thomas's School in Battersea.
Engagements
Edit
That April, he was photographed for postage stamps to mark his great-grandmother's 90th birthday, alongside his father and grandfather.
On 22 April of that year, he met President of the United States Barack Obama. He was photographed with a rocking horse that Obama had given him when he was born. The encounter later prompted Obama to joke that "Prince George showed up to our meeting in his bathrobe... a clear breach of protocol."
On 20 May 2017, Prince George served as a page boy at the wedding of his aunt, Pippa Middleton, to James Matthews.
Quotes, trivia and facts
Edit
"He's a little bit of a rascal, put it that way," William recently shared of their newborn baby boy. "So he either reminds me of my brother or me when I was younger. I'm not sure. But he's doing very well at the moment."
(on his baptism day) "He was such a good boy actually," the Duchess told The Mirror of her baby boy. "We were very lucky, he's not always like that."
Ad blocker interference detected!
Wikia is a free-to-use site that makes money from advertising. We have a modified experience for viewers using ad blockers

Wikia is not accessible if you've made further modifications. Remove the custom ad blocker rule(s) and the page will load as expected.